Friday night football game against Balmorhea: I just received a phone call from Mr. Gray the Principal at Balmorhea, he wanted me to let you know that San Angelo street is under construction and you need to take a right on Houston street and another right on 4th street to get to the new football stadium. Thanks
Sorry for the last message being all jumbled up, hopefully this is an easier read.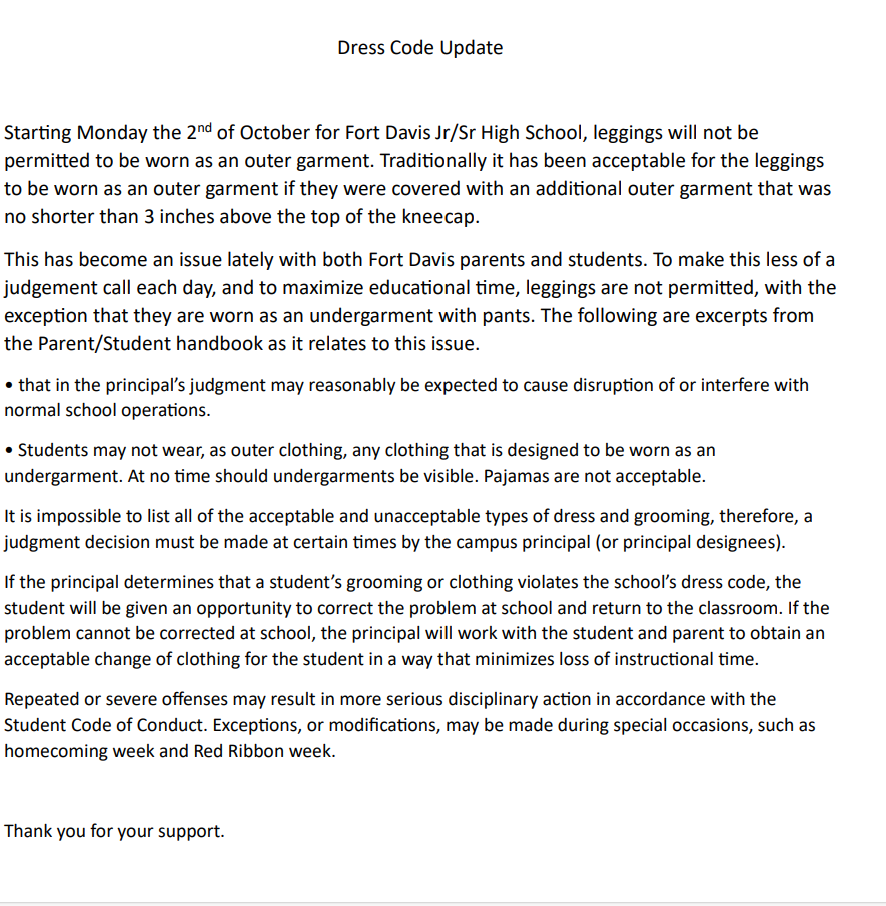 Dress Code Update Starting Monday the 2nd of October for Fort Davis Jr/Sr High School, leggings will not be permitted to be worn as an outer garment. Traditionally it has been acceptable for the leggings to be worn as an outer garment if they were covered with an additional outer garment that was no shorter than 3 inches above the top of the kneecap. This has become an issue lately with both Fort Davis parents and students. To make this less of a judgement call each day, and to maximize educational time, leggings are not permitted, with the exception that they are worn as an undergarment with pants. The following are excerpts from the Parent/Student handbook as it relates to this issue. • that in the principal's judgment may reasonably be expected to cause disruption of or interfere with normal school operations. • Students may not wear, as outer clothing, any clothing that is designed to be worn as an undergarment. At no time should undergarments be visible. Pajamas are not acceptable. It is impossible to list all of the acceptable and unacceptable types of dress and grooming, therefore, a judgment decision must be made at certain times by the campus principal (or principal designees). If the principal determines that a student's grooming or clothing violates the school's dress code, the student will be given an opportunity to correct the problem at school and return to the classroom. If the problem cannot be corrected at school, the principal will work with the student and parent to obtain an acceptable change of clothing for the student in a way that minimizes loss of instructional time. Repeated or severe offenses may result in more serious disciplinary action in accordance with the Student Code of Conduct. Exceptions, or modifications, may be made during special occasions, such as homecoming week and Red Ribbon week. Thank you for your support. Mr. George David Allen Principal Fort Davis Jr/Sr High School
Reminder that this Friday (9/29) is Indian Friday: Only students who need to make up class assignments, have a failing grade point average or need to make up attendance will be required to attend. You should get a notice from a teacher or administrator letting you know that your student is required to attend. Thanks

REMINDER for Parents! Students who have been identified for remediation by their teachers MUST attend school on Indian Days. Our first Indian Day is this Friday, September 29.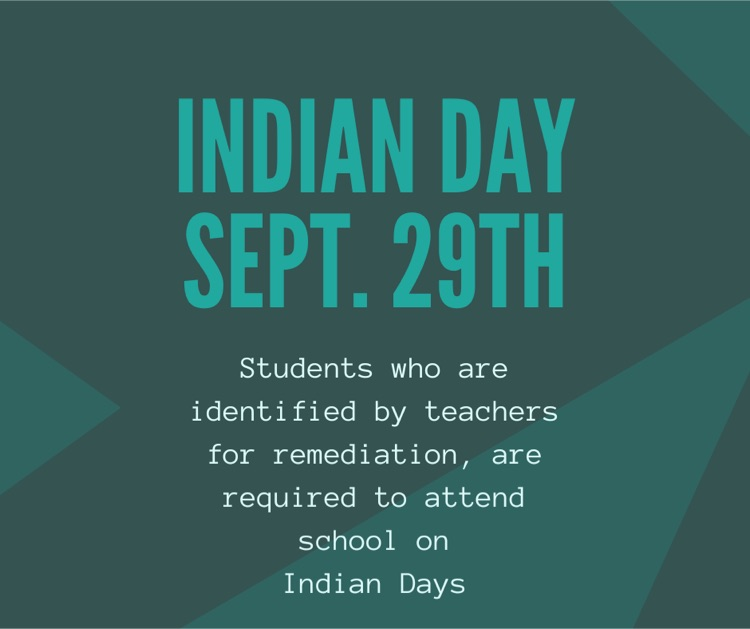 Sports update: Junior High Volleyball tournament in Van Horn scheduled for this Saturday is cancelled. Tomorrows volleyball line is as follows: Varsity plays Fort Hancock at 4:00, Junior Varsity plays Fort Hancock at 5:00, and the Varsity plays again at 6:00 against EPHS.

FFA Bargain Barn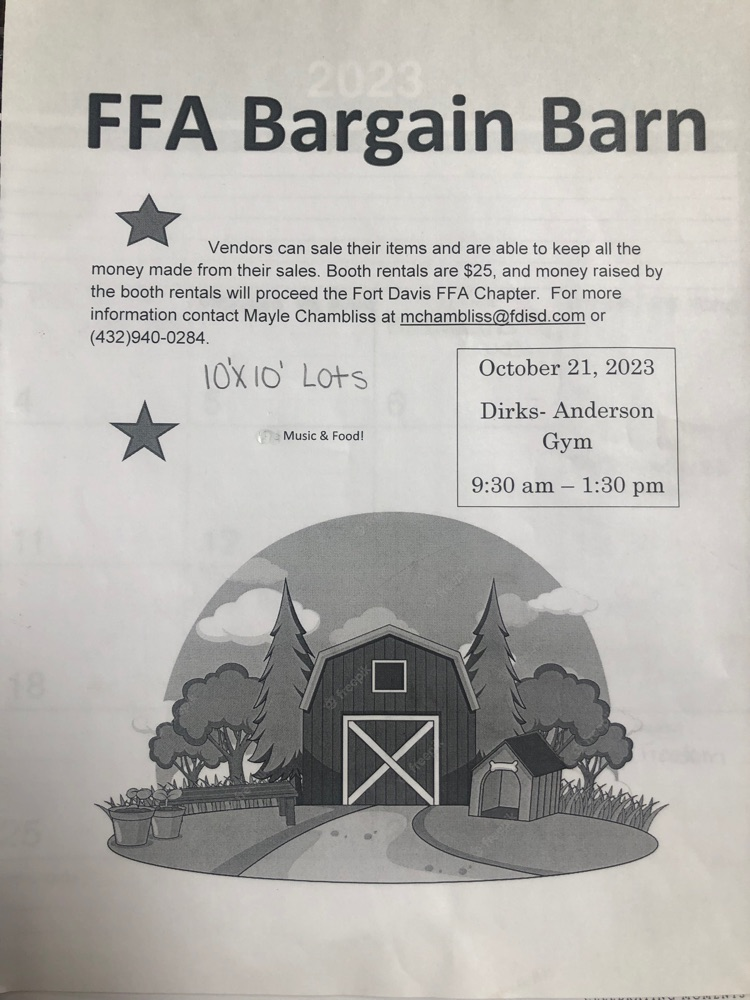 Help needed for our Homecoming game Friday the 27th of October. We need three volunteers to work the chains, one person to announce the game, and one person to run the scoreboard. Please contact Coach Roach or Coach Merrill if you are interested in helping. Thanks
Cross Country stats provided by Coach Giambalvo: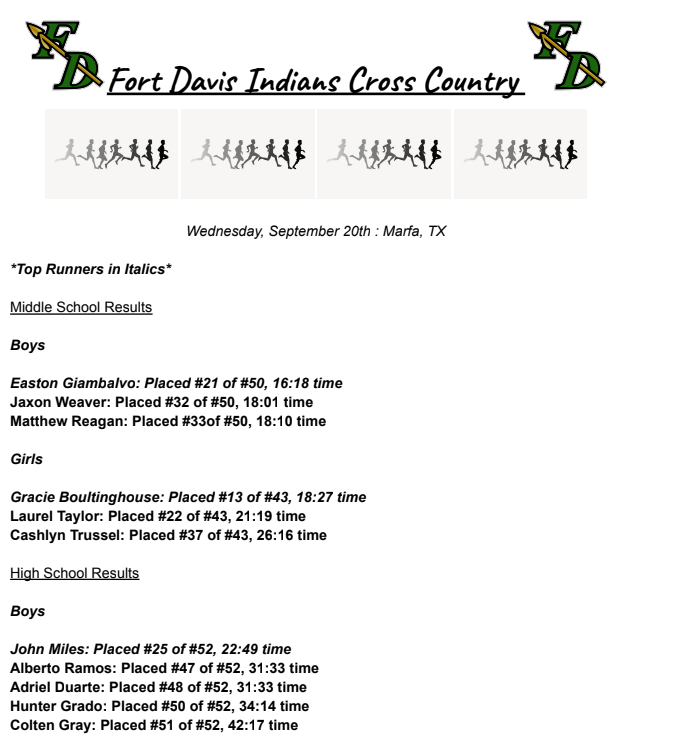 Dirks-Anderson lunch menu for the week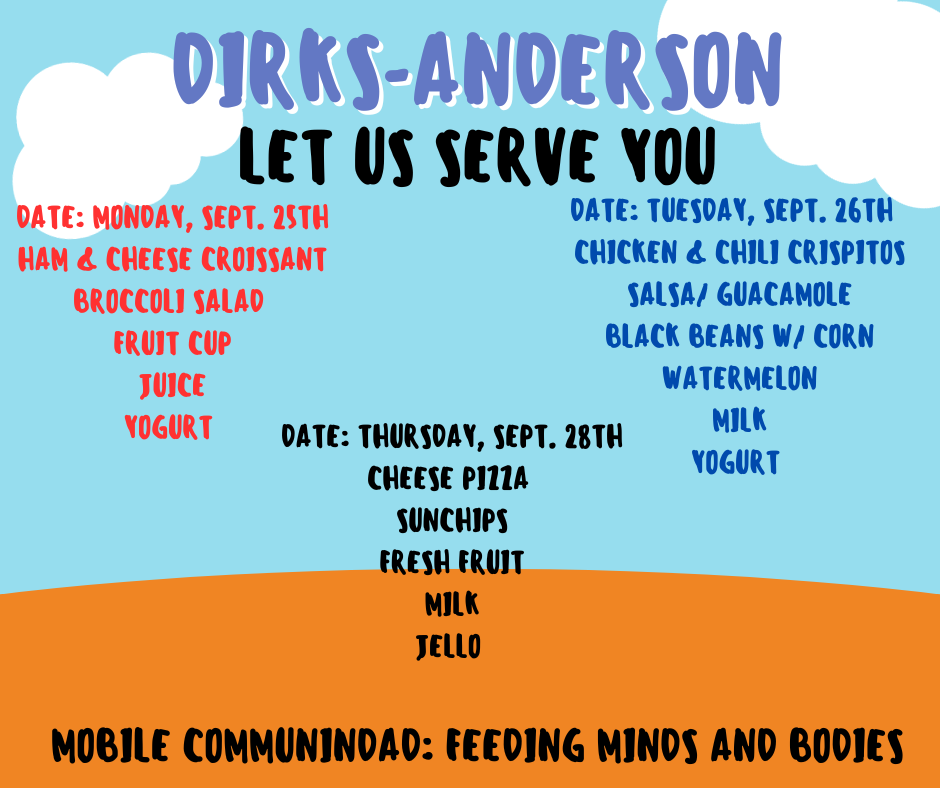 Results from last Saturday's football games provided by Coach Giambalvo: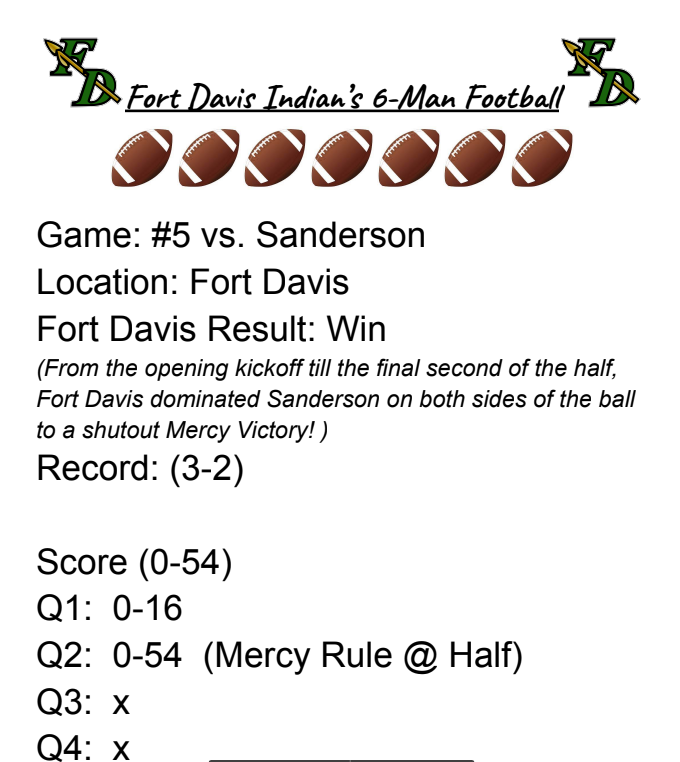 Sports schedule for the week of 9/25-9/30: 9/25 JH Volleyball @ Van Horn 5, 6: 9/26 JV/V @ Fort Hancock 4:30, 5:30: 9/28 JH Football here with Balmorhea 5: 9/29 Pep Rally 9:45: 9/29 V Football W Balmorhea 7:30: 9/30 JH Volleyball Tournament @ Van Horn
Pep rally today at 2:15pm, wear your favorite NFL team jersey.

Substitutes needed
Statistics from last Saturday's Football game provided by Coach Giambalvo.

Attentions Dirks-Anderson!
Sports schedule for the week of 9/18-9/23. JH Volleyball on Monday here with Valentine and Balmorhea 4:00 JV/V Volleyball on Tuesday @ Van Horn with Immanuel Christian Academy 4:00 V Volleyball on Friday here with Marathon 5:00 Pep Rally Friday @ 2:15 JH/V Football Saturday here with Sanderson JH 5, V 7:30
Yesterday Junior High football game stat's provided by Coach Giambalvo.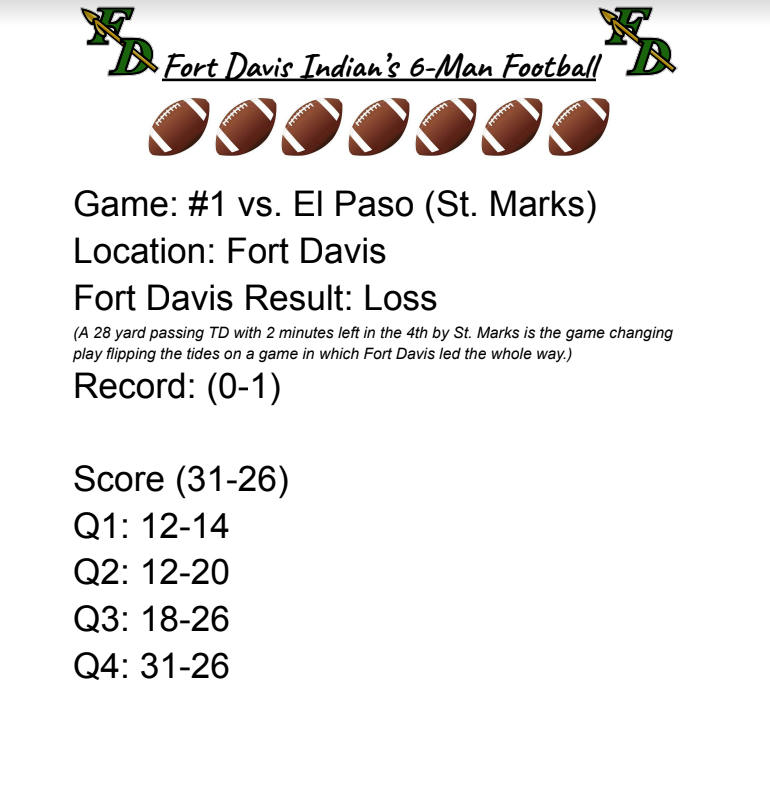 Pep Rally tomorrow!

Attention Dirks-Anderson parents